Team Will Hero Braden Hofen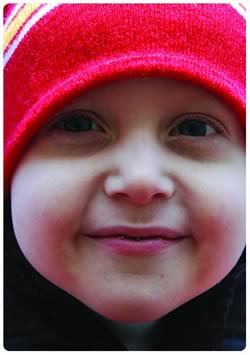 Braden Hofen
Born on September 9, 2004
Cancer diagnosis: Braden has relapsing, refractory neuroblastoma. Originally diagnosed on December 18, 2007 with relapse diagnosis on August 11, 2009.
Braden's current health status: relapsed, attempting experimental treatments
Support Site:
www.caringbridge.com/visit/bradenh
Favorite Color: Yellow
Favorite Food: Tyson Anytizer Chicken Bites
Favorite Book: Brown Bear Brown Bear
Favorite Movie: Wiggles
Favorite Sport: Basketball
Favorite Animal: Dog
Favorite Song: Brown Bear Brown Bear
A Fun Fact about Braden: I am a very sweet, snuggly little boy and I love to play basketball. I can hit shots with amazing accuracy.
If Braden had a Super Power, it would be: He would want to fly through the sky!