Team Will Hero Tyler Armstrong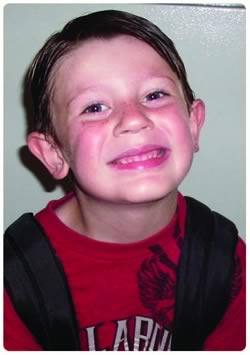 Tyler Armstrong
Born on April 27, 2004
Cancer diagnosis: Diagnosed with Acute Lymphoblastic Leukemia. We took him to the emergency room because he was really tired and complaining of stomach and hip pain. We thought we were going in for a appendicitis or a hernia but left with a Leukemia diagnosis.
Tyler's current health status: Remission
Favorite Color: Red
Favorite Food: Fruit Snacks
Favorite Book: Any scary book
Favorite Movie: Alice in Wonderland
Favorite Sport: Car Racing
Favorite Animal: Bear
Favorite Game: Scary Game
Favorite Song: Yo Ho! Yo Ho! A Pirate Life's For Me
A Fun Fact about Tyler: I love scary things, car races, and Disneyland!
If Tyler had a Super Power, it would be: I want to be super fast!
Tyler's favorite things: I love to go to car races and Disneyland!