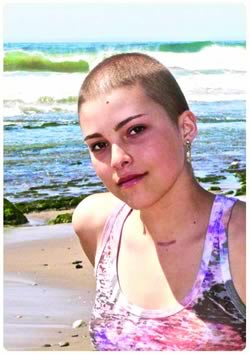 Olivia Lafferty
Born on September 18, 1995
Cancer diagnosis: I was diagnosed with stage 2, non-bulky Hodgkin's Lymphoma on November 23, 2009. I found out about it after a series of MRI's for a rare back condition called Surfer's Myelopathy, and got a biopsy to confirm.
Olivia's current health status: in remission
Favorite Color: I like cool colors
Favorite Food: Anything Italian
Favorite Book: The Hitchhiker's Guide to the Galaxy
Favorite Movie: The Elephant Man
Favorite Sport: Stand-Up-Paddling
Favorite Animal: Sea Hare
Favorite Game: Chess
Favorite Song: 'Imagine' by John Lennon
A Fun Fact about Olivia: I like to take care of wild animals and heal them. I like helping out others, so saving their lives makes me happy.
If Olivia had a Super Power, it would be: I would show people how to be kind and not selfish, and to care about other people and the world around them. Hopefully, someday I will be able to do that and change the world for the better.
Olivia's favorite things: My favorite thing to do is compose music. I play piano, and like to sing as well. I like taking pictures of wildlife, especially at the beach. I also enjoy marine biology, and would like to do that as a profession when I get older.