Team Will Hero Nicole Ray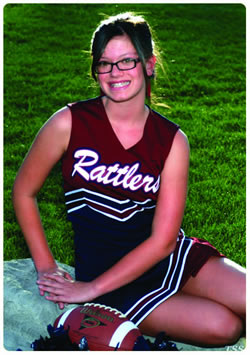 Nicole Ray
Born on October 14, 1996
Cancer diagnosis: Diagnosed with Leukemia on February 19, 2010.
Nicole's current health status: Still in treatment and doing well
Favorite Color: Purple
Favorite Food: Pasta
Favorite Book: Deep, Dark and Dangerous
Favorite Movie: Monster-In-Law
Favorite Sport: Cheerleading and Tumbling
Favorite Animal: Dogs
Favorite Song: Too many to list
A Fun Fact about Nicole: I like to be with friends and laugh.
If Nicole had a Super Power, it would be: I would like to fly in the air.
Nicole's favorite things: I love to cheer and be with my friends.