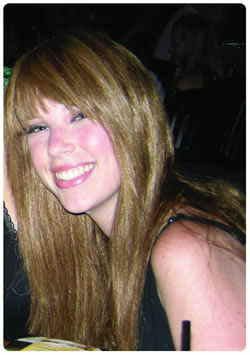 Tanya Strong
Born on January 21, 1993
Cancer diagnosis: Brain and spinal ependymoma. At 8 years old, Tanya was diagnosed in April of 2001 with a single tumor in her spinal cord. She had surgery to remove this which left her paralyzed from her rib cage down. Her prognosis was unknown but there were doubts as to whether or not she would walk again. After a month of intense physical and occupational therapy in-patient at UC Davis Children's Hospital she showed great progress and signs that she would have some level of mobility.
One year later, she was walking with assistance however, another tumor formed in her spine in a similar location. She had surgery to remove it and continued to work at her walking.
It was thought that she would only have those 2 isolated tumors and that all would be well. After 2 years of remission, Tanya began having pain in her sciatic nerves. She was now 11 and in the 6th grade. After an MRI, multiple tumors, 20 to 30, were discovered throughout her lower spine and pelvis. This began multiple surgeries and intense radiation and chemotherapy to help combat this very aggressive tumor and hope to keep it from metastasizing in her brain.
Two years later, multiple tumors were found in her brain. Tanya had brain surgery to completely remove a golf ball sized tumor from inside her brain and went on to have brain radiation.
In 2008, Tanya was 15 and a Freshman at Folsom High School. She was once again diagnosed with more tumors in her spine. It appeared to her doctors that nothing was effective in fighting these tumors. She had one more 8 month aggressive cycle of chemotherapy as a last effort as her prognosis looked to be very grave. After that cycle of treatment, her treatment, fight and faith in God has kept her in remission since December of 2008.
Tanya just celebrated her 17th birthday and is looking forward to being a senior next year and finding a great college to attend.
Tanya's current health status: In remission
Favorite Color: Yellow
Favorite Food: Sushi
Favorite Book: Pretty Little Liars by Sara Shepard
Favorite Movie: The Devil Wears Prada
Favorite Sport: Skiing
Favorite Animal: Anything with no more than four legs.
Favorite Game: Ninja Giaden Sigma 2
Favorite Song: I can't pick just one!
A Fun Fact about Tanya: When I was 3, I was obsessed with watching the animal channel so I could watch animals eat each other. At 3, I also watched Jurassic Park at least 7 times in a row with my cousin, Zachary.
If Tanya had a Super Power, it would be: I would like to heal others and bring them back to life.
Tanya's favorite things: Draw, listen to music, shop, travel, swim, and write poetry.