Team Will Hero Erika Recanzone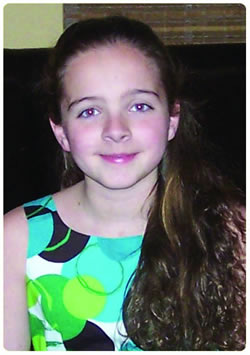 Erika Recanzone
Born on July 6, 1999
Cancer diagnosis: Diagnosed with Embryonal Rhabdomyosarcoma in June 2005. Endured 42 weeks of chemo and 6 weeks of radiation. Tumor was located in right masticator space. Stage 3 due to growth interfering with the lining of the brain.
Erika's current health status: Four years in remission
Favorite Color: Blue
Favorite Food: Pizza
Favorite Book: Are You My Mother?
Favorite Movie: Annie
Favorite Sport: Swimming
Favorite Animal: Dog
Favorite Game: All board games
Favorite Song: I Miss You
A Fun Fact about Erika: Having fun is what I do best. Anything, anyplace, as long as it makes me smile.
If Erika had a Super Power, it would be: I would love to fly, the faster the better.
Erika's favorite things: I love to play all sports, but my favorite thing to do is to go to amusement parks with my family. The crazier the ride the better!