Team Will Hero Quentin Fabian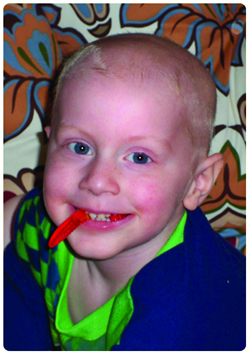 Quentin Fabian
Born on December 12, 2004
Cancer diagnosis: On December 21, 2009, Quentin was diagnosed with Stage 3 Burkitt's Lymphoma. After a month in the ICU, five rounds of week-long chemo treatments involving up to seven different medications, and a five hour surgery to remove a massive tumor in his abdomen, Quentin defeated cancer!
Quentin's current health status: Great! In Remission!
Favorite Color: Red
Favorite Food: Cheese
Favorite Book: Richard Scarry's Best Counting Book Ever
Favorite Movie: Spiderman 3
Favorite Sport: Baseball
Favorite Animal: Dog
Favorite Game: 'Cars' on Wii
Favorite Song: Thriller
A Fun Fact about Quentin: Quentin loves to do math.
If Quentin had a Super Power, it would be: Quentin would love to be able to have lasers shoot out of his eyes.
Quentin's favorite things: Quentin laughs a lot, he enjoys playing with his dog, playing football, baseball, and video games. And he loves to eat candy!