Team Will Hero Harley Combs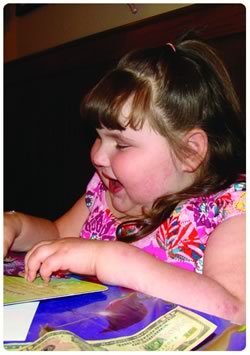 Harley Combs
Born on April 8, 2005
Cancer diagnosis: Harley was diagnosed in May of 2007 with an Astrosytoma Glioma at her brain stem. It is inoperable. They found two more spots in July of 2009. She has shunts due to fluid on her brain. The tumor her has caused problems with her speech, and learning. She is 5 but her ability is around 2 years of age.
Harley's current health status: Deceased
Support Site:
www.caringbridge.org/visit/harleycombs
Favorite Color: Anything bright
Favorite Food: Pizza
Favorite Book: Winnie the Pooh
Favorite Movie: Hannah Montana
Favorite Sport: Dancing
Favorite Animal: Dogs
Favorite Game: Peek-A-Boo
Favorite Song: All I Wanna Do by Sugarland
A Fun Fact about Harley: Harley loves people, she always wants to give hugs to everyone! When she leaves she always blows kisses!
Harley's favorite things: Harley loves music and will dance if a song she likes is playing.