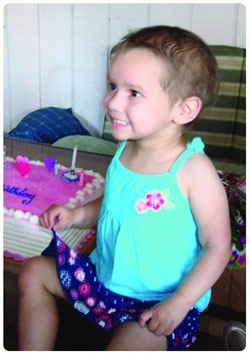 Delainey Zuniga
Born on July 10, 2007
Cancer diagnosis: Delainey was diagnosed with Myelodysplastic Syndrome (MDS) on October 5, 2009. This is a type of blood cancer that was caused by a chromosome gone "rogue". She was weak, and when she was admitted to the hospital on September 29, 2009, she had two red blood transfusions, and platelets. The only cure was a bone marrow transplant, so the search was on for a match. None was found, so the doctors and her parents opted for the high risk Half-Match process and my daughter, Delainey's Mom, was selected as the donor. The transplant occurred at the University of SF Children's Hospital on December 11, 2009. She was discharged on January 9th. She had an infection in her broviak, and was again hospitalized for three weeks in April 2010. A PICC line was put in her right arm, but it failed at the end of June, and now she must endure the "pokes" for transfusions and blood draws. The bone marrow transplant team at UCSF have been doing engraftment studies about every 6 weeks trying to determine if the transplant is complete, but the results still show some of Lainey's cells. We are hoping for that 100% mark to be obtained from the last test they took a week ago (August 2010). She has maintained a strong spirit throughout all of this, and had her third birthday this year. We only hoped she would have that birthday last October. She isn't out of the woods yet. The doctors have told us that once she is at the 100% mark, we have to wait for two more years before they will consider her "cured." She is a survivor and we appreciate your efforts to celebrate her struggle, her journey, and her special spirit to survive. She is destined to do great things for the world, and I know that she is also willing to "Go the "Distance."
Delainey's current health status: Stable
Favorite Color: Pink
Favorite Food: Spaghetti
Favorite Book: Dora the Explorer
Favorite Movie: Toy Story 3
Favorite Sport: Ballet and Tap Dancing
Favorite Animal: Dogs and Cats
Favorite Game: Hide and Seek
Favorite Song: Twinkle, Twinkle Little Star
A Fun Fact about Delainey: Delainey likes to have sleepovers at her Grandma and Papa's house.
If Delainey had a Super Power, it would be: Delainey would like to have the power to make sure that cancer is destroyed from the face of the earth.
Delainey's favorite things: Delainey is taking ballet and tap dance classes and can't wait for Fridays to come around. I like wearing my leotard and little pink skirt. She's told she looks pretty darn cute.