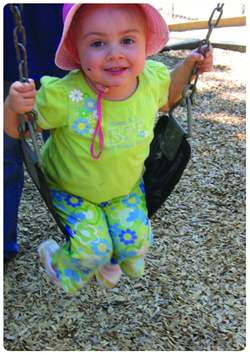 Emily Tate
Born on July 23, 2007
Cancer diagnosis: Emily was diagnosed with A.L.L Early childhood leukemia on May 28, 2010. We have been told that this has an 80% cureable rate with chemo.
Emily's current health status: Emmi has been responding very well to her chemo treatments. She has been getting a little more tired but overall has been doing g
Support Site:
www.caringbridge.org/visit/emilytate
Favorite Color: Red, Orange, and Purple
Favorite Food: Watermelon, Carrots, and Sugar Snap Peas
Favorite Book: Where the Wild Things Are
Favorite Movie: Wow Wow Wubzy, Max and Ruby
Favorite Animal: Giraffe and Polar Bears
Favorite Game: Playdough and Puzzles
Favorite Song: Twinkle, Twinkle Little Star
A Fun Fact about Emily: Emily loves to dance and have tea parties. Emily also loves to color and play with her Playdough.
If Emily had a Super Power, it would be: Emily would love to fly.
Emily's favorite things: Loves to go outside and play and move around the garden decorations and she also loves to chase bubbles.