Team Will Hero Zachary Peters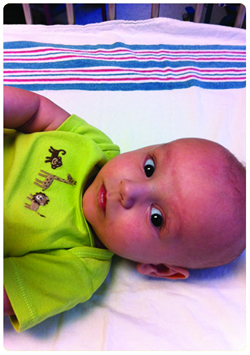 Zachary Peters
Born on April 7, 2010
Cancer diagnosis: Zachary was born with a tumor in his lower right leg. The original biopsy came back as benign--Proliferative Fasciitis. The weekend prior to meeting with the surgeons to discuss the surgery to "debulk" the tumor, Zachary was admitted to the hospital because his electrolytes were off the charts. An MRI was done and showed the tumor grew aggressively and destroyed part of the bones in his lower leg. On August 10th, Zachary had a through the knee amputation. A second biopsy was done and on August 25th, Zachary's parents were told he had cancer. Zachary was being treated for an Undifferentiated Sarcoma.
Zachary's current health status: Deceased
Favorite Color: Blue
Favorite Book: I Love You, Stinky Face
Favorite Song: Itsy Bitsy Spider
A Fun Fact about Zachary: Zachary loves bright colored balloons and flirting with his favorite nurses.
Zachary's favorite things: Zachary loves walks and hanging out with his Dad.