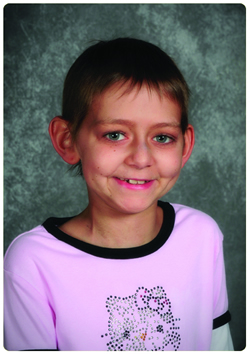 Eden Adams
Born on April 21, 2000
Cancer diagnosis: Diagnosed on July 16, 2004, Eden Adams passed away December 29, 2008 at home after battling Neuroblastoma, Stage IV. She was 8 years old. Chemotherapy, stem-cell transplants, radiation and surgery to remove tumors meant days, weeks and months at Nationwide Children's Hospital. She also traveled to hospitals in Philadelphia, Vermont, and Orlando.
Eden's current health status: Deceased
Support Site:
www.edenadams.com
Favorite Color: Pink
Favorite Food: Fine Dining
Favorite Book: Andrew Lost Series
Favorite Movie: Lord of the Rings Trilogy
Favorite Sport: Hockey
Favorite Animal: All
Favorite Game: Wii Sports
Favorite Song: It's Five O'Clock Somewhere by Alan Jackson & Jimmy Buffett
A Fun Fact about Eden: Eden and our family traveled to Washington, D.C., to meet President Bush and the First Lady as the president signed into law a $150 million in research funds for childhood cancer, which is where Eden met members of Team Will.
If Eden had a Super Power, it would be: Fairy Dust, sprinkling happiness to everyone.
Eden's favorite things: Eden enjoyed boating with her family and trying her hand at horseback riding. She loved riding her bike, playing on the computer and watching Hannah Montana whenever possible. She admired the Blue Jackets so much that they invited her to sing the national anthem and drop the puck before a game.