Team Will Hero Emily Marler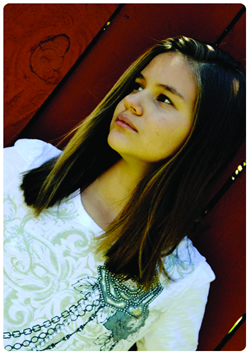 Emily Marler
Born on February 2, 2000
Cancer diagnosis: Pediatric undifferentiated liver sarcoma. Diagnosed on February 10, 2012. It's a very rare cancer. Less than 2% of kids have this type of cancer. It is life threatening.
Emily's current health status: A tumor the size of a large grapefruit and lymphnodes were taken out in April, 2012. Ongoing chemo until the end of October, 2012.
Favorite Color: Blue
Favorite Food: Pickles
Favorite Book: The Hunger Games
Favorite Movie: Rio
Favorite Sport: Football
Favorite Animal: Turtle
Favorite Game: Minecraft
Favorite Song: Teardrops on My Guitar by Taylor Swift
A Fun Fact about Emily: I like watching cat videos on YouTube
If Emily had a Super Power, it would be: Time Lord! Duh. . .
Emily's favorite things: I like to swim, hang out with my friends, play on my computer, go to the American River and spend time with my family.