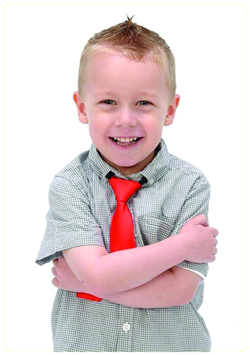 Prestun Seibel
Born on September 17, 2009
Cancer diagnosis: On September 26. 2012, Prestun was diagnosed with a rare cancer, Neuroblastoma stage 4 after a bone biopsy of his left leg. Prestun then had surgery to remove the initial tumor that started in his left adrenal gland. Prestun then did six back to back cycles of chemotherapy in Kansas City Children's Mercy Hospital for around 6-7 months. Due to nightly high fevers, loss of appetite and lot of vomiting, little Prestun lost most of his body fat and was forced to have a feeding tube to keep him healthy. After the chemo he was flown to Sloan Kettering in New York City to see Dr. Kushner an expert in Neuroblastoma and a leader in clinical trials for it.
Dr. Kushner recommended 14 Cycles of radiation on the adrenal area, femur bone, and the right shoulder blade. Once that was completed he was then put into another very harsh but effective treatment 3F8 (an antibody made from a mouse protein). This treatment nearly killed him due to an unusually high blood pressure and breathing problems and he was forced to not complete the full treatment. He was given two high doses and six normal doses that on the final dose left his blood pressure at 167 over 127. For weeks after this he complained of stabbing pains in his head. He was forced to do oxygen treatments to battle the cluster headaches. During the 3F8 treatments he was also during a drug called Accutane causing bone pain and horrible mouth soars.
Once the 3F8 had ended Prestuns was flown to Michigan to see another doctor doing a trial with an older drug called DFMO. Low doses were given to Prestun twice daily and Prestun was scanned every few months to check on the return of any cancer cells or tumors. During one of these scans we discovered that a new tumor had developed in his brain barrier.
Prestun immediately was taken back to KC to start an new regiment of chemo treatments called ICE he was to given the highest dose he could. After the dose he developed a lung infection and due to him having no immune system he was told he had a poor chance of survival. Prestun was force onto oxygen because of his low oxygen levels. Prestun's parents asked KCCM to send the scans of Prestuns lungs to Dr. Kushner and KC Children's Mercy insisted they could handle the situation however Prestun's parents made the hard decision and had him transferred and flight watched to New York. Under Dr. Kushner's care the lung infection seemed to be getting better however they found that the infection may have spread form lungs to the liver and spleen. This infection could be fungal or could also be signs of a second cancer but Dr. Kushner says this is highly unlikely.
When new scans where done of the head we discovered that the relapse was not in the brain barrier but had actually started in the brain. Prestun has been scheduled to have surgery on his brain to remove the tumor on Thursday, September 11th and a permanent stent will be put in. From what we understand they will be able to inject a radioactive solution via the stent to help fight the cancer in his skull and his spine. If the tumor grows any lager it could start to effect his right sides motor skills. After the surgery he will have another 10 to 17 proton radiation treatments done on the skull area to help increase the odds it does not return (50/50 shot). He will at this same time be given another undetermined amount and round of a different regiment of chemo. Prestun has a very difficult and costly journey ahead of him. Please pray for him and help any way you can to ease the financial burden.
Prestun's current health status: Undergoing Treatment
Support Site:
www.facebook.com/PrestunSeibelJourneyKickinNueroblastomaButt
Secondary Support Site:
prestunseibel.org
Favorite Color: Blue
Favorite Food: Pizza
Favorite Movie: Batman Lego Movie
Favorite Sport: Swimming
Favorite Animal: Bunny
Favorite Game: Video Games
Favorite Song: 'Everything Is Awesome' from The Lego Movie
A Fun Fact about Prestun: Prestun loves to smile and never looks back to the past. He's amazing!
If Prestun had a Super Power, it would be: I would be Batman!