Team Will Hero Tristan Alderman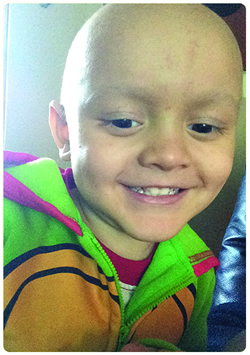 Tristan Alderman
Born on June 28, 2012
Cancer diagnosis: Acute Lymphoblastic Leukemia (ALL), diagnosed on July 5, 2015. ALL is an acute form of leukemia (or cancer of the white blood cells), overproduction and accumulation of cancerous, immature white blood cells, known as lymphoblasts. Lymphoblasts are overproduced in the bone marrow and continuously multiply, causing damage and death by inhibiting the production of normal cells (such as red and white blood cells and platelets) in the bone marrow and by spreading (infiltrating) to other organs.
Tristan's current health status: Interim Maintenance Stage of Chemotherapy
Support Site:
www.facebook.com/pages/Tristans-Crusade-Against-ALL/949997198397503
Favorite Color: SuperHero Blue and Green
Favorite Food: Cheese Pizza
Favorite Movie: Minions
Favorite Animal: Dinosaurs and Silly Monsters
Favorite Game: Chutes and Ladders
Favorite Song: Love Maroon 5 and Bruno Mars
A Fun Fact about Tristan: I have a port just like Iron Man
If Tristan had a Super Power, it would be: One Zap, where I can cure anyone that's sick.
Tristan's favorite things: I like to play in the backyard with my siblings, make crafts, play board games, and watch movies on DVD.