Team Will Hero Annika Knudson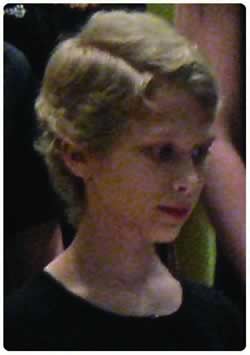 Annika Knudson
Born on June 3, 1997
Cancer diagnosis: Annika felt ill for the first few days of February 2009, we thought it was the flu. When her pain began to increase dramatically, and she had not kept down any liquids for a couple of days, we took her to the local ER. They X-Rays and a CT scan gave them enough concern to send her to Children's Mercy Hospital in Kansas City. On February 6, 2009, Annika had an emergency laparoscopy at CMH to repair an intussusception. This became abdominal surgery when a fist-sized tumor was discovered. She recovered from surgery, then began a series of tests including a PET scan, ECHO and spinal taps. The pathology report came back on February 12, 2009. It was Stage II Burkitt's Lymphoma. She began chemotherapy on February 25, 2009. During her ordeal, a few of her friends wrote a song for her, called "Soldier Without Armor." It was an incredible gift. It was professionally produced, and then sold to help with Annika's medical bills. Chemotherapy was completed in April. Her first N.E.D. scan was on May 20, 2009! With a clean bill of health, Annika's odyssey as a survivor has begun. She is ready!
Annika's current health status: Cancer Free!
Support Site:
www.caringbridge.org/visit/annikaknudson
Secondary Support Site:
www.songforannika.org
Favorite Color: Yellow and Green
Favorite Food: Ice Cream
Favorite Book: Too many to pick just one!
Favorite Movie: Mystery Science Theater 3000: Santa Claus Conquers the Martians
Favorite Sport: Soccer
Favorite Animal: Cat
Favorite Game: Tag
Favorite Song: Soldier Without Armor
A Fun Fact about Annika: I'm very flexible, like a pretzel!
Annika's favorite things: I like singing in choir, and sometimes singing solos.