Team Will Hero Oliver Keller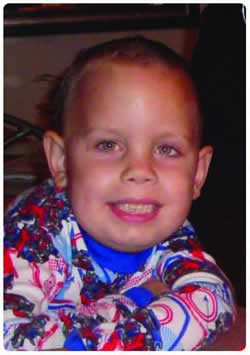 Oliver Keller
Born on August 29, 2002
Cancer diagnosis: Oliver was diagnosed with Medulloblastoma (Brain cancer) on January 25, 2007.
Oliver's current health status: Cancer Free for one year!
Favorite Color: Red
Favorite Food: Mashed potatoes, broccoli, baked beans
Favorite Book: Transformer books
Favorite Movie: Aladdin
Favorite Sport: Baseball
Favorite Animal: Cats and dogs
Favorite Game: Sorry Sliders and Checkers
Favorite Song: anything by The Jonas Brothers or Lady GaGa
A Fun Fact about Oliver: Oliver thinks it's really cool that he beat cancer, and that he got to throw out the first pitch at a Phillies game!
If Oliver had a Super Power, it would be: Oliver would want to be able to shoot slime at bad guys and make them stick wherever they are.
Oliver's favorite things: Oliver loves to play boardgames, his Wii, wrestle with Daddy, do arts and crafts, and hold his baby sister and feed her.