Team Will Hero Kierstin Stroud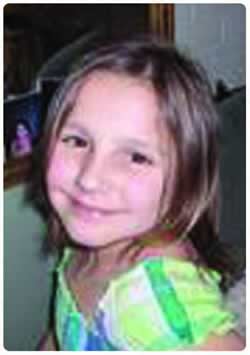 Kierstin Stroud
Born on January 7, 2000
Cancer diagnosis: Diagnosed with Vaginal Botroides Rhabdomyosarcoma in Feb.2002...This is rare cancer in which she had solid tumors in her vagina...She did a medium grade chemo mix with 3 chemo's for 8 months, after that time she had laser surgery and they removed what was left of the tumor....Kierstin was then in remission for 3 months but then relapsed, they found new tumors... This time they gave her a more aggressive chemo with 4 very strong chemo mixtures...This required hospitalization 6 days out of 7. However, after 54 rounds, she has been in remission for 5 years...YEAH!!!
Kierstin's current health status: Currently a healthy vibrant 10 year old...however, she does have cardiomyopathy due to chemotheropy
Favorite Color: Green
Favorite Food: Pizza
Favorite Book: any High School Musical book
Favorite Movie: Twilight
Favorite Sport: Cheerleading
Favorite Animal: Puppy
Favorite Game: Clue
Favorite Song: Tick Tock
A Fun Fact about Kierstin: I love to sing and dance.
If Kierstin had a Super Power, it would be: I would have the power to heal all children with cancer.
Kierstin's favorite things: Jumping on my trampoline and cheerleading.